LONGUEVILLE HOUSE HOT APPLE CIDER
Longueville House Beverages Hot Apple Cider recipe – mulled with cinnamon, cloves and orange and spiked with brandy.
This Longueville House Beverages Hot Cider recipe is part of a series of posts from my Munster Vales travel guide.
It's also one of three posts on Longueville House. Part one is a review of the hotel and grounds and part two is a review of the dinner and breakfast in the Longueville House Restaurant.
If you read my last blog post, you'll know that Longueville House has just won 'Best Breakfast in an Irish Country House'. Well, guess what? They also just won the 'Overall Champion' and took home the gold medal at the Alltech Dublin Cider Cup 2018. Hurrah. And very well deserved.

LONGUEVILLE HOUSE BEVERAGES – THE HISTORY
The history of beverage making and distilling at Longueville House goes back over 40 years when Michael O'Callaghan began making wine from the vines that he planted on the grounds of Longueville House. However, in 1985 he turned his hand to making brandy. He wanted to make a drink similar to French Calvados so he planted a cider apple orchard.
Nowadays his son William leads the beverage business. He has expanded the orchards to 25 acres. He grows only heirloom cider apples (Michelin and Dabinett). Longueville is one of just four single-origin orchards in Ireland. I was fortunate to be given a tour by the very knowledgable and passionate Rubert Atkinson, the Sales and Marketing Manager of Longueville House Beverages.
Not only does William continue his father's legacy producing Ireland's only apple brandy, but he also expanded the product range to included naturally made cider. The cider's name is Longueville House Cider or O'Callaghan's Irish Cider in the United States.
LONGUEVILLE HOUSE CIDER – THE PROCESS
The Dabinett and Michelin apples are harvested in late October. The apples are then crushed and pressed in the cider mill on the Longueville House estate. The pressed juice is naturally fermented, taking place as a result of the action of the wild yeasts, which are particular to the orchards and environs of Longueville. The fermentation process takes between two and six months.
There are no added colourings, additives, sulphites or preservatives used at any stage. The entire process, from growing the apples to the fermentation of the cider, is done on the estate.
LONGUEVILLE HOUSE CIDER – THE TASTE
I first tried Longueville House Cider at a tasting event and I was surprised at how little it tasted like any cider I had tried before. It isn't too fizzy or sour and has a lovely fresh apple flavour. It is crisp and refreshing and very well-balanced with lots of depth and rich, complementing flavours.
LONGUEVILLE HOUSE IRISH APPLE BRANDY – THE PROCESS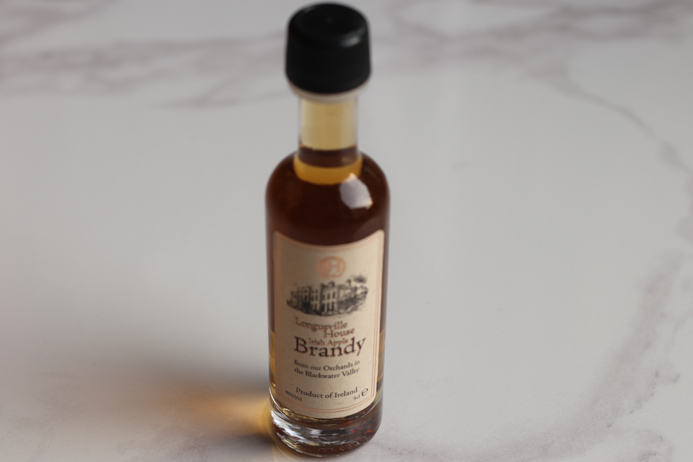 Some of this cider is then double distilled using three antique copper pot stills. The distillery on the Longueville estate. Once the cider is fermented it is poured into pot stills where it is double distilled into an apple brandy. The Brandy is stored in French oak barrels where it is aged for four years to mature.
During the maturing process, the brandy draws out the tannins, vanilla, oak and smokiness from the oak wood. It develops a rich, dark colour after four years resting in the oak barrels.
LONGUEVILLE HOUSE IRISH APPLE BRANDY – THE TASTE
The brandy is smooth with a full-bodied mouth-feel. I think it smells of apple pie and ice-cream. It is wonderful sipped neat, warmed slightly by the heat of your hand on the glass. It would also be lovely for an Irish coffee or ideal for making brandy sauce.
I used the brandy to make the Longueville House Beverages Hot Apple Cider recipe.

LONGUEVILLE HOUSE HOT CIDER KIT:
You can buy a Longueville House Hot Cider Kit that has all you need to make delicious hot apple cider. The kit has two bottles of Longueville House Cider, one miniature bottle of the Longueville House Apple Brandy and a mulled spice teabag.
However, if you can't get your hands on the Longueville House Hot Cider Kit you can make your own hot cider by following the Longueville House Hot Apple Cider recipe.
LONGUEVILLE HOUSE HOT APPLE CIDER RECIPE
INGREDIENTS
1 bottle of Longueville House Cider or 500ml of your favourite cider
Half an orange, juiced
2 slices of orange
3 cloves
Half a stick of cinnamon
A shaving of nutmeg
Brown sugar or elderflower cordial or honey to taste
Optional – dash of Longueville House Brandy
Tip: if you don't want to use the spices you can buy a mulled spice/wine teabag or sachet and use that instead or you could use some ground allspice.
Also, you can use more or less spices depending on your taste. I added a full stick of cinnamon and three slices of orange with three cloves in each. I don't like my hot apple cider recipe too sweet so I added just about a teaspoon of Demerara sugar.

METHOD
In a heavy-based saucepan, pour in all the Longueville House Cider.
Place the pot on a low heat.
Add the cloves, cinnamon and nutmeg and slices of orange.
When the liquid is beginning to heat, carefully taste and sweeten with brown sugar or elderflower cordial or honey. Err on the side of caution here. You can always add some more later on if it isn't sweet enough.
Allow the mulled cider to heat up slowly but do not bring to boil.
Remove the pot from the heat and then add the orange juice and Longueville House Brandy. The brandy will make the hot cider a bit more luxurious and give it a bit of a kick but you can leave it out if you want to.
Taste again and make any final sweetness adjustments.
Pour into heatproof glasses and enjoy sipping this comforting, hug in a mug.
"Slainte!"
Read all the details about my trip in my Munster Vales Ireland travel guide.
You can also read my Lough Gur Heritage Centre review
Deebert House Hotel Restaurant review
Cafe Townhouse Doneraile review
Longueville House Restaurant review
Do you have a hot apple cider recipe? Let me know and I'll link to it from this blog.
Have you tried the  Longueville House Beverages Hot Apple Cider recipe? What did you think of the taste? Let me know in the comments below. I love hearing from you.
If you liked this Hot Apple Cider recipe you might also like my Mississippi mud cake recipe made with Irish whiskey.
Or you might enjoy baking my salted-caramel chocolate cake recipe. You can make the sauce using brandy.
You might also like my review of the Longueville House Restaurant which goes into detail about the grounds and walled-gardens on the estate.
If you liked this Hot Apple Cider recipe, please share with others.
RELATED POSTS
In "Reviews"
In "Food and Drink"
In "Travel"
MELANIE MAY
melanie@melaniemay.com
Travel Eat Write Repeat - This food and travel blog features travel tips, destination guides, honest hotel and restaurant reviews and original recipes inspired by my travels.