"Longueville House Irish Apple Brandy"
Longueville House Apple Brandy (est 1985) is a double distillation (ABV 40%) of our own cider using 3 antique copper pot stills in our distillery. Once the cider is fermented, resulting in a rich amber colour it is poured into pot stills where it is double distilled into an apple brandy. The Brandy is stored in French oak barrels where it is aged for four years to mature. During the maturing process, the brandy draws out the tannins, vanilla, oak and smokiness from the oak wood. The resulting brandy is rich with the aroma of apples, smooth and full bodied on the palat
 Our Brandy develops a rich, dark colour after four years resting in the oak barrels. A fantastic after dinner drink served straight up, no need for ice or a mixer, warm the brandy in a brandy balloon in the palm of your hand to release all those wonderful tastes, flavours and aromas. Our brandy is also fantastic and very popular in cocktails or simply add to coffee for a unique Irish Coffee - we call it "Longueville Coffee". 
         "Sugar and Spice" Cocktail by Chapter One.                                                                                    "Panna Colada" Cocktail by Cask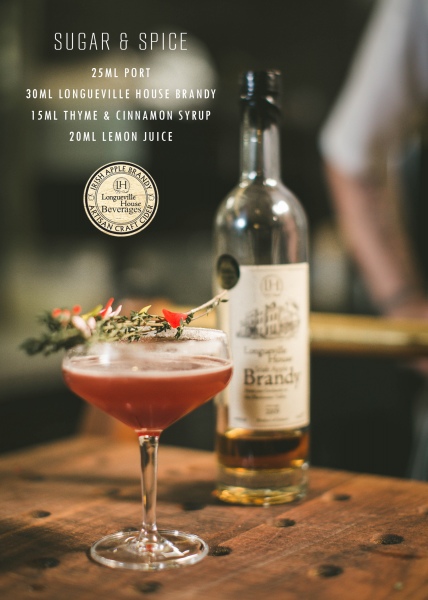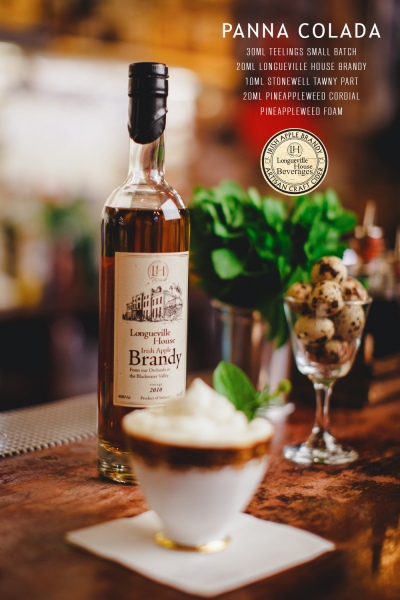 "Longueville House Irish Apple Brandy 2010 Vintage"
"Deep bronze in colour. Welcoming aromas of toasty oak, sweet shops, orange sherbet, rose water, parma violets, lilac pollen, dried citrus peel, apple strudel, cinnamon and nutmeg. Smooth and velvety in the mouth with a pleasantly refreshing character. Not at all overly oaked or harsh. Flavours of spiced apple, cinnamon, stem ginger, nutmeg, lilac, violet, rose and other flowers. The finish has toasty oak, citrus peel, grapefruit and apple cake flavours." 
Al Higgins Master Taster
Celtic Whiskey Shop 
Recent Apple Brandy Awards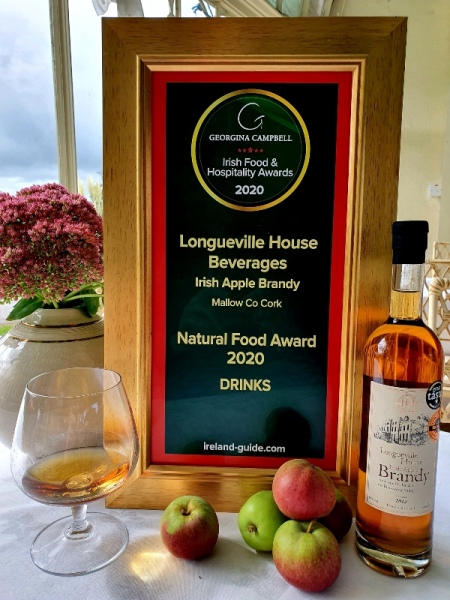 Blas na h-Eireann Silver Medal 2019 & Bronze Medal Award 2018 
Guild of Fine Food Great 
Taste Award 2018, 2019
Irish Food & Drinks Award/ Blas Na hEireann Gold Medal Award 2013, 2014, 2015, Finalist 2016 & 2017. (The only Irish Spirit to have ever won Gold three years in a row, back to back at Blas na hEireann and that was up against all the Irish Whiskey's)