"The Longueville House Ciders"
Longueville House Ciders range has earned a reputation of quality - rapidly becoming a major hit in many restaurants and licensed premises throughout Ireland, Europe, and beyond.
Our crop of Dabinett and Michelin apples are harvested in late October, once picked the apples are crushed and pressed in the Cider Mill on the estate. The pressed juice is left naturally ferment over a period of 2 to 6 months, taking place as a result of the action of the wild yeasts, which are particular to the orchards and environs of Longueville. The newely fermented cider is left condition for a further 6 months resulting in a rich, amber colored cider, full of character, flavour and taste. There are no added coloring's, additives, sulphites or preservatives used at any stage during the production and manufacturing process of the ciders. The entire process from growing the apples to the fermentation of the cider is done on the farm.
The cider is then bottled in 500ml glass and sold as Longueville House Cider (ABV 5.5%) 500ml bottles. A medium-dry cider with a fresh apple flavour, Longueville House Cider is a gorgeously refreshing, clean, crisp cider - and as far from commercially produced 'cider' as can be imagined (its how traditional cider used to be before it got all artificial and fake).. 
Our New cider, Longueville Mór (ABV 8%) 750ml screw cap bottles,  Mór is the Gaelic/Irish word for big, our Longueville Mór Cider is  fermented and aged for 1 year in our Apple Brandy casks. When we take our Longueville House Apple Brandy out of our French oak red wines casks after four to six years we fill the cask with freshly pressed apple juice form our crop of Dabinett and Michelin apples which after 1 year results in significantly Mór taste, Mór depth, Mór well rounded, Mór balanced, Mór character, Mór flavour and significantly Mór enjoyment a truly Mór delicious and Mór unique cider. 
Longueville Mór is a very drinkable and quiet deceiving cider as it doesn't taste like an 8% cider however it will remind you about half way through the bottle that it is actually an 8% cider.
 "We like our cider hot when it's cold outside & cold when it's hot outside" 
"A beautiful, crisp, refreshing cider"
Derry Clarke L'Errivain Restaurant
"My favourite cider"
Lisa Lambe Irish Singer/Actor
Longueville House Cider Awards 
 Gold Medal Winner Blas na h-Eireann
2019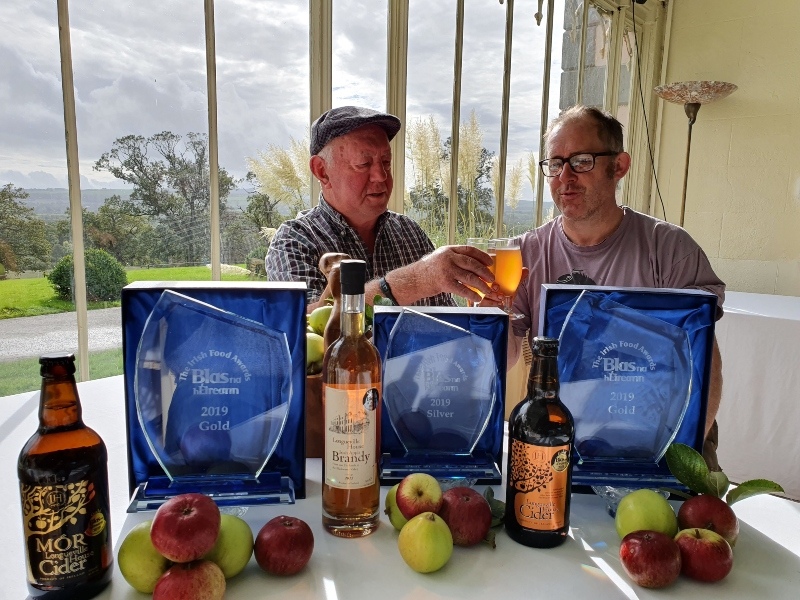 Guild of Fine Food Great Taste Award 2018
Silver Medal at the Alltech Dublin Cider Cup 2018
Longueville House Cider Review by Cider Explorer
Longueville House Cider Review by Cider Seeker
Longueville House Cider Review by Cider Couple
Longueville Mor Awards
Guild of Fine Food Great Taste 3 Stars & The Golden Fork Award 2019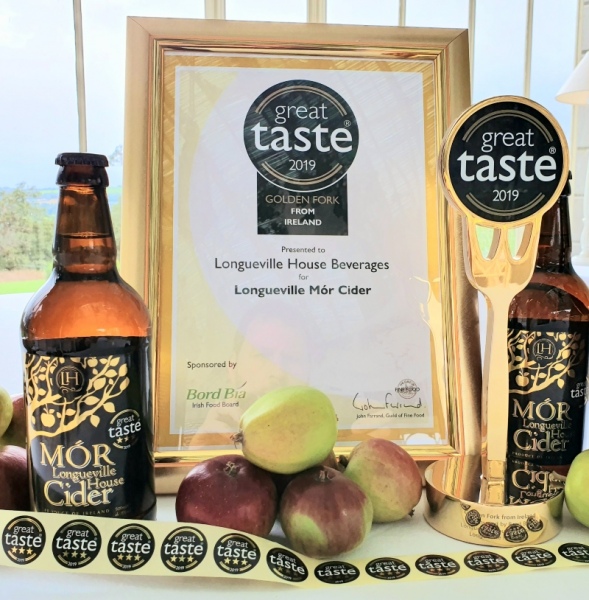 Gold Medal Winner Blas na h-Eireann 2019 
Overall Champion & Gold Medal at the Alltech Dublin Cider Cup 2018
Silver Medal at the Alltech Dublin Cider Cup 2017
"Highly Commended" Beoir Champion Cider of Ireland Competition 2017  
Longueville Mor Cider Review by Cider Explorer
Longueville Mor Cider Review by Cider Seeker